Your partner in Weighing Solutions, Material Handling & Lifting Equipment
MA.X2 Moisture Analyzer
| | | | | |
| --- | --- | --- | --- | --- |
| Max Capacity | 50 g | 50g | 110g | 210 g |
| Readability [d] | 0,1 mg | 1 mg | 1 mg | 1 mg |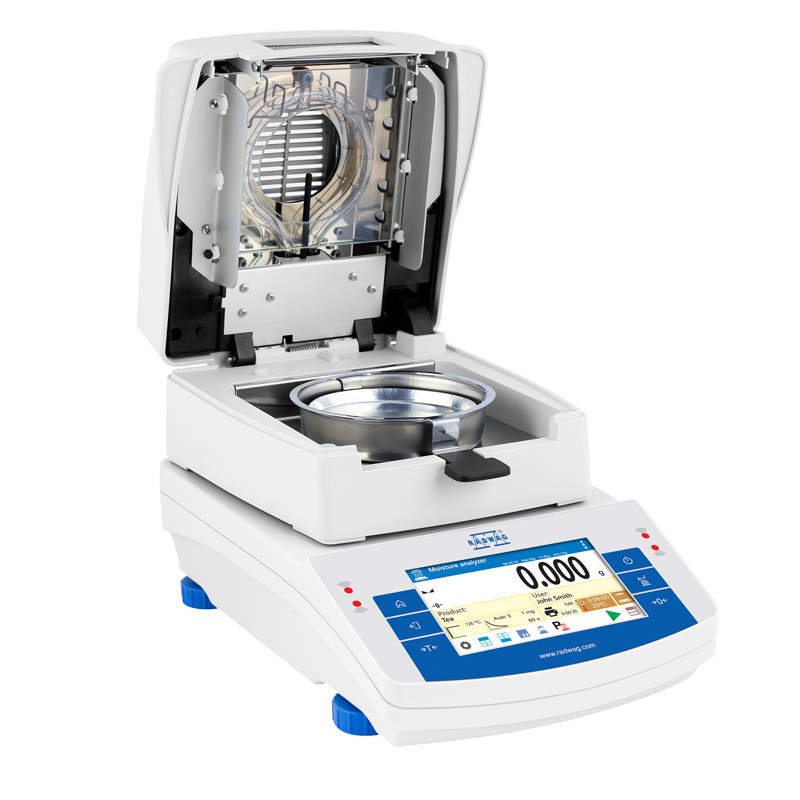 Description
MA.X2 moisture analyzers are hi-tech measuring instruments intended for quick determination of relative moisture content, dry mass content and other parameters in samples of different substances.
Highlights of MA X2 series moisture analyzer:
Modern interface
DRYING FORECAST – Prognosis of the Drying Process Result
Touchscreen
Programmable display
Easy configuration of information arrangement
Wide range of databases – work optimization
Databases – security and archiving of your work results
USB interface allowing export of results and databases
E2R software allowing on-line control over your work
Database
Drying process can be carried out for any temperature and set for a specific product using following databases:
DRYING FORECAST - Prognosis of the Drying Process Result
MA X2 series moisture analyzers are now equipped with DRYING FORECAST function that enables to shorten the drying process. If you do not care about the highest accuracy and increased measurement error (ranging from 5% to 20% of the end value) you can shorten the drying process up to 6 times. It is an option dedicated for users who require fast and multiple estimation of materials moisture content.DRYING FORECAST method is a prognosis of the end result, carried out before the drying process is completed. Based on characteristics of current drying curve, created online, moisture analyzer estimates the end result of the drying process.
It is an approximate result characterized with small error of +/- 10% of the end result for most of the products and +/- 20% for products that require drying process to be longer (such as plastics, gels and materials containing more than 30% of water). The calculation algorithm adapts to the drying material features and estimates first end result. The value of the prognosis is more accurate when the process takes more time. You can specify the time and accuracy of the process.
Specification
MA 50/1.X2
MA 50.X2
MA 110.X2
MA 210.X2
Max capacity
50 g
50g
110g
210 g
Readability [d]
0,1 mg
1 mg
1 mg
1 mg
Tare range
-50 g
-50 g
-110 g
-210 g
Max sample weight
50 g
50g 
                     110g
210 g
Moisture readout accuracy
0,0001 %
0,001 % 
                   0,001 %
0,001 %
Moisture content repeatability
0,05% (sample weight of 2 g), 0,01% (sample weight of 10 g)
Max sample height
h= 20 mm
Weighing pan size
0 90 mm, h= 8 mm
Drying temeprature range
max. 160° C
Heating module *
IR emitter
Drying mode
4 drying modes (standard, quick, step, mild)
Auto switch-off options
4 options (time-defined, automatic, manual, user-defined)
Additional functions
Control of sample weight prior drying process
Power supply
230 V
Display
LCD 5" capacitive touchscreen
Interface
1xRS 232, 1xUSB-A, 1xUSB-B, 1*Wireless Module
Proximity sensors
2
Net weight/gross weight
4,9 / 6,4 kg
Packaging size
470x380x336 mm
Drawings
Accessories
| Anti-Vibration Table (coated or stainless steel) | GT105k-12/Z Control Thermometer |
| --- | --- |
| EPSON Printer | Adjustment Weight |
| Disposable Weighing Pans | PW-WIN, RAD-KEY PC Software |
| PC Keyboard | Calbe RS 232 (balance - computer) "P0108" |
| Water Vapour Permeability Determination Set | Cable RS 232 (balance - Epson, Citizen printer) "P0151" |