Your partner in Weighing Solutions, Material Handling & Lifting Equipment
Standard Checkweigher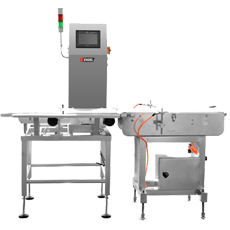 Description
Introduction :
Standard checkweigher is used mainly for packed products like bags, pouches, cans, bottles, etc.
A checkweigher is an automatic or manual machine for checking whether the weight of a packaged commodity is within a specified range. It is normally found at the end of a production or packing line and is used to ensure net weight compliance
Features:
Replacing labour for sorting, saving cost, improving efficiency & optimizing the production process
Complete control over process through customized reports and distribution chart.
Focus Industries:
Sea food industry
Aquatic & frozen products industry
Packaging industry
Flour mills
Chemical industry
Pharmaceutical industry
Poultry
Specification
Model

END-EXL-160

END-EXL-230S

END-EXL230L

END-EXL-300

END-EXL-400

Detecting Range

10~600g

20~2000g

20~2000g

20~5000g

0.2~10kg

Scale Interval

0.05g

0.1g

0.1g

0.2g

1g

Accuracy(??)

±0.1g

±0.2g

±0.2g

±0.5g

±1g

Detecting Speed(Max speed)

250pcs/min

200pcs/min

155pcs/min

140pcs/min

105pcs/min

Belt Speed

70m/min

70m/min

70m/min

70m/min

70m/min

The weighed product size

Width

150mm

220mm

220mm

290mm

390mm

Length

200mm

250mm

350mm

400mm

500mm

Weigher platform size

Width

160mm

230mm

230mm

300mm

400mm

Length

280mm

350mm

450mm

500mm

650mm

Operation Screen

7-inch Touch LCD Screen

Product Storage Quantity

100 kinds

Segments Number of Sorting

3

Rejecter

Rejecter Optional

Power Supply

220V (Optional)

Degree of Protection

IP30/IP54/IP66

Body Material

Stainless Steel (SUS304)
Application
Checking underweight / overweight products
Identifying missing components in a package
Feedback to the batching system
Product sorting by weight